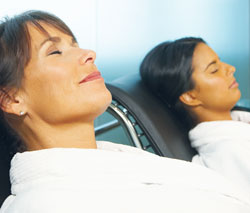 Please check in 10 minutes prior to your scheduled appointment. Your prompt arrival ensures a relaxing personal experience. Arriving late will cheat you of precious minutes, as your treatment will end on time so as not to delay the next guest. We advise you to make appointments well in advance of your visit to ensure availability. As a courtesy to other spa guests, we ask that you refrain from cell phone use while at the spa.
Hours
Monday through Fridays 8:00 am – 5:00 pm
Method of Payment
All treatments and products must be paid for at the time of service. We accept VISA, MasterCard, Discover, American Express, checks, cash and CareCredit.
Cancellation Policy
Should you need to reschedule or cancel your appointment, please give us at least twenty-four (24) hours notice. Individuals that cancel in less than the required time will be requested to secure future appointments by pre-paying with a credit card.
Gratuity
Prices do not include gratuity. For a job well done gratuities may be given at your discretion.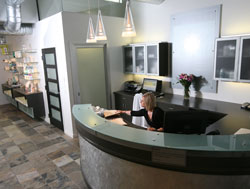 Facilities
Facial room, laser rooms, consultation room, relaxation lounge and massage chairs.
Return Policy
Our products are carefully chosen to preserve and enhance your natural beauty. We evaluate products based on clinic medical research and previous customer satisfaction. If you are unhappy with any of our products, please return them within 10 days for a full refund.
Gift Certificates
Gift certificates are available for all services and in any denomination and may be charged by phone. Gift-wrap service is available.
Our Staff
The members of our staff are certified both in the treatments they provide, as well as on the medical equipment they use.
CareCredit®
We're pleased to offer our patients the CareCredit® card, North America's leading patient payment program. The CareCredit® card is just as easy to use as a regular credit card, but it's designed specifically for your health and beauty needs. Best of all, CareCredit® offers convenient payment plans and no hidden costs. You can even use your CareCredit® card over and over for follow-up appointments. Apply now or to learn more about CareCredit, please contact us.